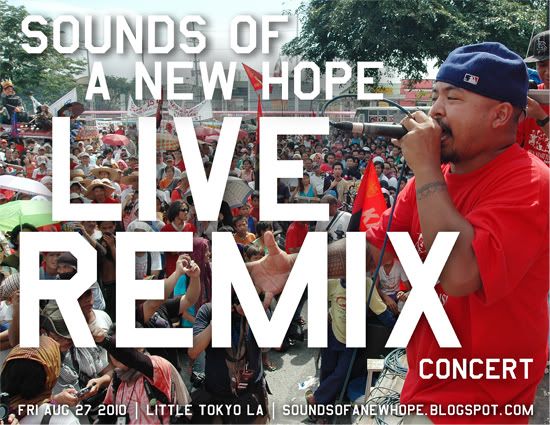 Mark your calendars everybody!!!
SOUNDS OF A NEW HOPE Live Remix Concert
JACCC Plaza, Little Tokyo, Los Angeles
FRIDAY, AUGUST 27, 2010, 7pm
See
SOUNDS OF A NEW HOPE
like you've never seen it before...
I'm going to be remixing the film live using VIDEO DJing and scratching in new never-before-seen scenes that take you deeper into the life of Kiwi and the people's movement in the Philippines.
There will also be LIVE PERFORMANCES integrated INTO the film, featuring
Power Struggle
,
Krystle Tugadi
,
Shining Sons
,
Vicoy Bagongsigaw
,
Gingee
, and more... plus a special performance by
Kiwi
with video projection in the background!
Spread the word!!!
-ET
photo by Jay Davis