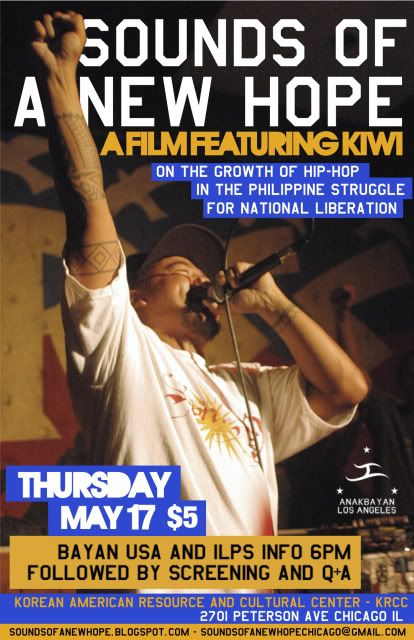 Filipino-American MC Kiwi will be screening his film Sounds of a New Hope about his work using hip-hop as an organizing tool in the people's movement for national liberation and democracy in the Philippines.
All proceeds will go toward the Anakbayan-USA Founding Congres
s happening on May 18th in here Chicago.

BAYAN USA & ILPS COMMUNITY MEETING - 6PM
FOLLOWED BY FILM SCREENING AND Q&A WITH KIWI & FILM DIRECTOR

Watch the trailer:
http://www.youtube.com/watch?v=PS6nbv8pe78

ABOUT ANAKBAYAN:
As the first overseas national chapter of Anakbayan, young organizers work to build the nationwide Filipino youth movement that clearly recognizes the integral role of US-born and migrant Filipino youth in the struggle for national liberation and genuine democracy in the Philippines.

More info on Anakbayan: http://www.bakitwhy.com/anakbayanusa/blog/makibaka-huwag-matakot-anakbayan-usa-announces-founding-congress

Organizers from BAYAN-USA, Anakbayan-USA, and ILPS (International League of Peoples' Struggle) would like to invite community members to learn more this growing movement.